Preconfence page
Home
Call for paper
s
Programme
Book of abstracts
Registration
Submission
Travel information
Accomodation
Venue
Rethymno
Committees
Sponsors
Contact
Travel information

Participants can arrive to Rethymno either by airplane via Chania or Heraklio or by ferryboat from Piraeus.
There is no airport in Rethymno. However, there are frequent flights connecting Athens to Chania (approximately 60km) and Heraklio (approximately 80km). Flights last approximately 45 minutes.
Information about flight schedules are available at the following websites:
Aegean Airlines: http://www.aegeanair.com
Olympic Airlines: http://www.olympicairlines.com
Ryanair: https://beta.ryanair.com/gb/en/
Sky Express: http://www.skyexpress.gr/en-us/home.aspx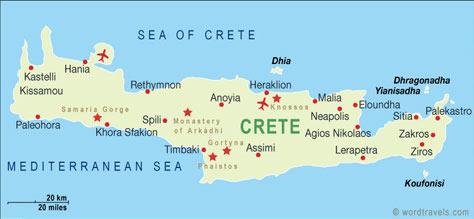 Information about ferryboat schedules are available at the following websites
ANEK http://www.anek.gr (ferryboats to Chania and Heraklio)
MINOAN lines http://www.minoanlines.gr (ferryboats to Heraklio)

Possible options
1. Transfer by taxi from airport/port to the bus terminal in Heraklion or Chania. Then transfer to Rethymnon by the public bus service KTEL. Bus services connect all cities, towns and villages within Crete. For information on bus schedules check the bus services web site: http://bus-service-crete.com/default.html
2. Direct transfer by taxi form airport/port to Rethymnon. The cost is about 90 euros (the cost can be divided if more than one passengers share the taxi).